Your One Stop For Anything Propane!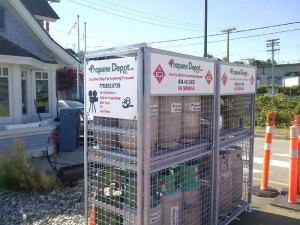 Cages available for sale or rent.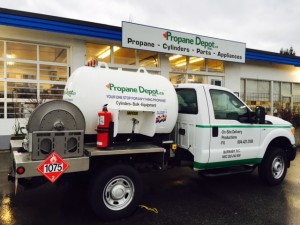 The New Addition to the Propane Depot Fleet. On-Site Bulk Propane Delivery Truck 007.
Movie Productions & SPFX On-Site Delivery

, 7 days a week

On-Site Service Area: Greater Vancouver, Lower Mainland, Burnaby, Vancouver, Coquitlam, Richmond, New Westminster, Surrey, Langley, Pt Kels, Abbotsford, Chilliwack, Squamish, Lions Bay
No charge cylinders, cages rentals
Licensed A & B Gas Fitting
Safety Inspection of Catering Vehicles
Delivered cylinders and equipment,
Full Service Burnaby location (Parts, Repairs & Equipment Sales) and our Vancouver refuelling facility.
If we handle your propane needs, you will save on propane and equipment. No Charge Rentals!
If you would like to open an account with us: Application for Account
Derek Belton,    Operations Mgr.,               778.833.0735    derek@propanedepot.ca
Chris Bowman, Transport Coordinator,      604.314.2578  dispatch@propanedepot.ca
Mike Moore,  Burnaby Location,                   604.421.3108   mike@propanedepot.ca
NEW! 1 Pound Refillable Cylinder Exchange Program!
Our new Refillable 1 lb Cylinder Exchange Program provides a quick and easy alternative to disposable bottles! Ideal for use in fog machines, torches, small heaters, and more! 
How it works:
If you have an account, we rent you the Cylinders NO CHARGE. Just pay for the initial fill. When you need a refill, exchange the empty bottle for a full one and pay only for THE FILL.
Propane Depot is now featured in these magazines and publications:


Suite 121 – 9801 King George Blvd.
Surrey, BC V3T 5H5
604.581.0559 | 1 888 248 9948

2221 Hartley Ave.
Coquitlam, BC V3K 6W9
604.553.1335 | 1 888.291.7335
Propane Depot Inc. has fueled:
A Dog's Way Home
A Series of Unfortunate Events
Almost Human
Altered Carbon
Arrow
Backstrom Productions
Bates Motel
Beyond
Big Valley
Breed
Bridge Studio
Campbell
Caribbean Blue/ Deadpool 2
Central City Films
Chaos 3D Metallica
Clubhouse
Crushed
Dark Cult Films
Dark Side
DC: Legends of Tomorrow
Dead of Summer
Dead Right
Deadly Class
Death Note
Death of A Dragon
Doomsday
Fairly Odd Productions: Grow Up Timmy Turner!
Falling Skies
Farewell Productions
First Cut Productions
Frequency
Further Adventures in Babysitting
Further Adventures of Max and Banks
Game Over, Man
Ghost Wars
Girlfriends Guide to Divorce
Go With Me Productions
Greenfire Productions
Hardpowder
Herschel / Pirates of the Caribbean
Hidden Fortress
HollyNorth Production Supplies
If I Stay Productions
Impastor Productions
iZombie
Kindergarten Cop 2
Legends of the Hidden Temple
Lemoncello's Library
Light of My Life
Live Like Line
Lost In Space
Lucifer
Man in the High Castle
Maple Bay Lodge Productions
Matrix Productions SVC
Maze Runner 3
Mech X-4
Midnight Sun
Minority Report
Miranda's Rights
Misfits
Mountain Between
Murder She Baked
Nicole
Night at the Museum 3
Nine Productions 1 Inc
No Tomorrow
Okja
Ollie
Olympus Productions
Once Upon A Time
Only Human
Pacific Backlot
Primeval
Prison Break
PS Productions
Reel Time FX
Reverie
Riverdale
Roadies
Rufus 2
Rush
Scenic Oasis Films
Shooter
Shut In Productions
Sirens
Six
Skyscraper
Snowpiercer
Somewhere Between
Status Update
Supergirl
Supernatural 5 Films
The 100 films
The Convenient Groom
The Crossing
The Deep
The Flash
The Flash
The Good Doctor
The Hunt
The Lair
The Layover
The Magicians
The Returned
The Revenant
The Shack
The Shirts/Power Rangers
Think Pink Rentals
Time
Timeless
Tomorrowland
Travelers
Tulips for Rose
Tully
Unreal
Van Helsing
Vancouver Mobile Dressing Rooms
Washer
Washington/Star Trek
Wayward Pines
Wham!/Deadpool
When Calls the Heart
When We Rise
Woody Woodpecker
X Files
X-Files
Zoo