Propane Cylinders for Purchase
---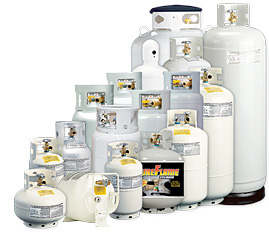 Propane Cylinders range in sizes from 5 lbs to 420 lbs
Cylinders come in Aluminum, Steel and Fiberglass
See Manchester Specs for capacities and dimensions.
Used in a variety of applications — domestic, recreational, commercial, and industrial.
All NEW cylinders are approved under Transport Canada specifications
Metal Propane cylinders must be re-certified every 10 years in Canada
Fiberglass 

Propane Cylinders must be re-certified 5 years in Canada and have a lifespan of 15 years.
We also sell 5lbs – 30 lbs recycled metal cylinders. No Fiberglass Recycled Cylinders.
Cylinders have been sandblasted, repainted and are re-certified for 10 years.
Recycled propane cylinders cost less and help the environment!
Fiberglass Composite Cylinders
Available in 11lbs and 17lbs capacity.
Fiberglass cylinders are LIGHT and RUST-FREE so they are ideal for marine applications, but can also be used for domestic and commercial purposes. They are subject to the same pressure and crush tests as steel and aluminum cylinders, so they have the durability and versatility of metal cylinders without the weight. Additionally, the body of the cylinder is translucent, allowing you to easily the liquid level in your tank – no gauges, no surprises.
Note: In Canada, fiberglass cylinders have to be re-tested every 5 years and have a lifespan of 15 years.
Dimensions and Specs of Viking Fiberglass Composite Cylinders
Steel and Aluminum
5lbs Vapor Cylinders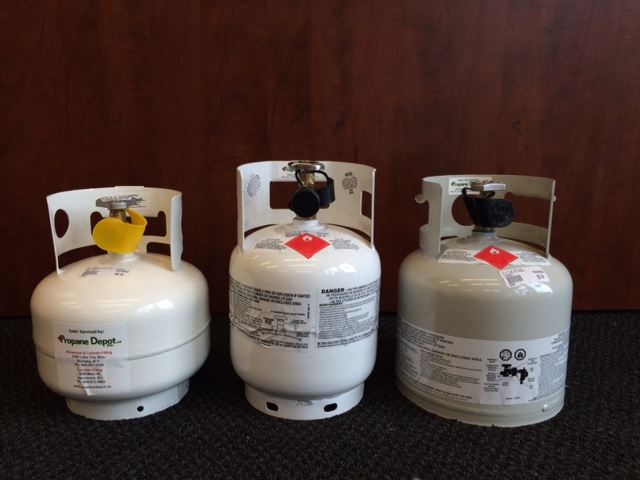 Weighing only 15lbs when full, 5lbs Cylinders are ideal for small spaces (RVs, small balconies, trailers, boats…) and travelling (camping, picnics, fishing, hunting…).
Available REFURBISHED and NEW.
Approx. 10″-12″ H x 8″ D
8.8lbs Vapor Cylinders
Only slightly larger than the 5lbs Cylinder, the 8.8lbs Cylinder gives you that extra 3L while still being easy to transport and store. Available REFURBISHED.
Approx. 14.5″ H x 9.5″ D
10lbs Vapor Cylinders – Vertical and Horizontal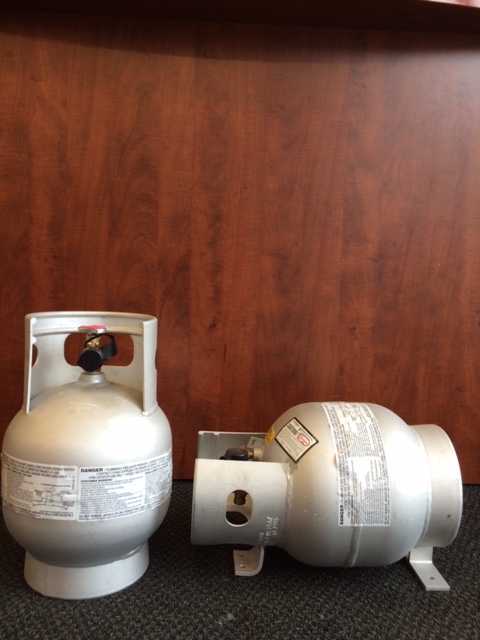 Aluminum cylinders are RUST-FREE and are much lighter than steel cylinders, making them ideal for boats and outdoor applications. 10lbs cylinders fit in most boat lockers. Available NEW.
Vertical approx. 16.5″ H x 10.4″ D. Horizontal approx. 16.5″ L x 10.4″ D
11lbs Vapor Cylinders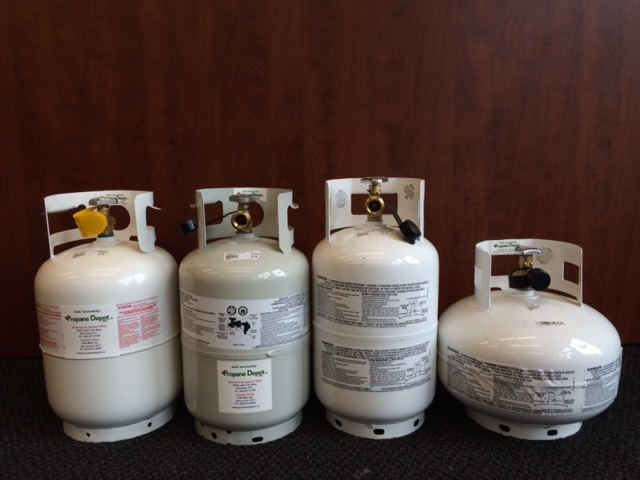 11lbs Cylinders come in SQUAT size for low clearance barbecues, RVs, balconies, boat lockers, etc. Largest of the picnic-size cylinders, 11lbs cylinders provide 9.9L of propane. Available REFURBISHED and NEW.
Tall approx. 16.5″ H x 9.5″ D. Squat approx. 12.5″ H x 12″ D
20lbs Cylinder – Common BBQ Size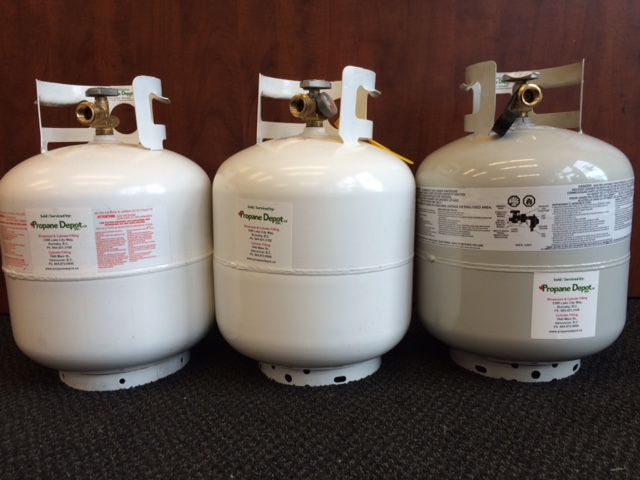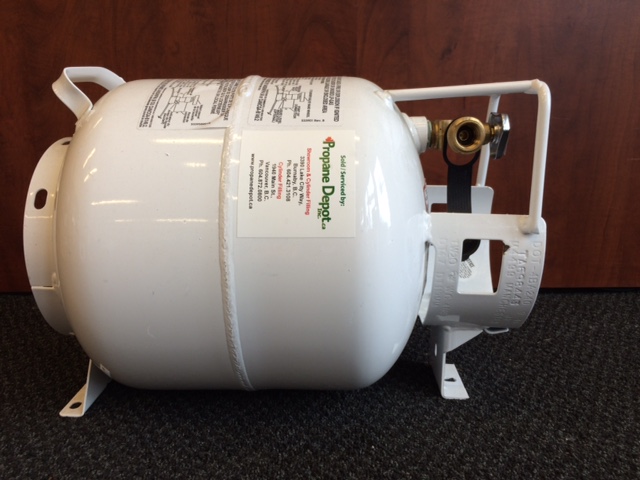 20lbs Cylinders are the most commonly used size. They fit most cart-style barbecues and can be used to run multiple appliances at once (brass adapter for multi-use sold separately). Available 
REFURBISHED
(Vertical Steel with Gauge and Vertical Steel without Gauge), and 
NEW 
(Horizontal Steel and Aluminum, Vertical Steel and Aluminum, Horizontal 
VAPOR
Carb used for floor polishers).
Vertical approx. 18″ H x 12″ D. Horizontal approx. 17.5″ L x 12″ D.
43.5lb Aluminum Mower Tank
Dimensions: 28.8″ x 34.4″ x 12″ (L x H x D)
Available in 20lb: 20.4″ x 14.6″ x 12″ (L x H x D)
Available in 33.5lb: 22.4″ x 28.3″ x 12″ (L x H x D)
Designed specifically for lawn care use.
Available for horizontal or vertical service, depending on the application.
Left-handed male safety couplers; female available.
Standard fittings include Safety Relief, Float Gauge, Fixed Liquid Level, Vapor Service, and ACME Fill Valves.
Collar painted green on mower cylinders for product differentiation.
Includes liquid elimination device.
Lifetime Warranty on vapor supply tube.
---
Over 30 Million Disposable Bottles End Up In The Landfill EACH YEAR.
You can also exchange 1 lb Refillable Propane Cylinders at:


3735 1st Ave,
Burnaby, BC V5C 3V6
Canada
604 299 2000
www.hollynorth.com
The Original Grill Gauge
GRILL GAUGE INSTANTLY CATCHES UNDER-FILLED PROPANE TANKS!
It is well publicized that certain propane companies have lowered the fill levels in standard 20.0 pound LP tanks to only 15.0 pounds – which is approximately 25% below the legal, safe-fill limit!
More reliable than In-Line Gauges, which can be inaccurate. In-Line Gauges often take pressure readings, which can vary according to ambient temperature. The Original Grill Gauge uses weight to measure the amount of propane in a cylinder, making it incredibly accurate and dependable.
For more information: The Original Grill Gauge
---
We can ship ALL ACROSS CANADA: Vancouver Island, Nanaimo, Victoria, Campbell River, Sooke, Parksville, Coombs, Lower Mainland, Greater Vancouver (Burnaby, Coquitlam, Port Coquitlam, Port Moody, Lion's Bay, Langley, Ladner, Tsawwassen, Surrey, New Westminster, Delta, North Vancouver, West Vancouver),Squamish, Chilliwack, Abbotsford, Muskoka, Garden Bay, Sunshine Coast, Pemberton, Whistler, Kelowna… Alberta, Manitoba, Saskatchewan, Quebec, Ontario, Nova Scotia, Newfoundland, Yukon, Northwest Territories…… Alberta, Manitoba, Saskatchewan, Quebec, Ontario, Nova Scotia, Newfoundland, Yukon, Northwest Territories…
We also have distribution warehouses in: Vancouver (BC), Calgary (AB),
Edmonton (AB), Saskatoon (SK), Regina (SK), Winnipeg (MB), Mississauga (ON),
Ottawa (ON), Montreal (QC)