Jackson Grills
Jackson Grills Outdoor Grills are durable, rust-proof, Stainless Steel and have many accessories available.
The Versa (Portable Line) and Lux (Cart Model) Series. Click on the image for more information on each model.
Click here for more Jackson Grills Models.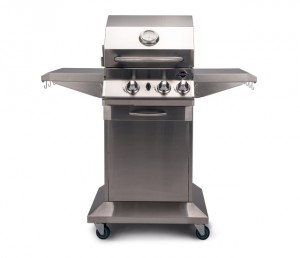 Lux 400 Series #2358
Island GrillStone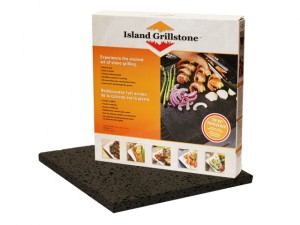 The Island Grillstone™ opens the doors to the past, enabling everyday grillers and barbecue fanatics to experience the benefits of stone grilling.
Steeped in tradition and history, Island Grillstone is an innovative barbecue accessory made of naturally porous volcanic rock cut to fit most barbeques. Its unique properties allow The Island Grillstone™ to hold the natural flavor, moisture and nutrients in the food, while preventing flare-ups that cause charring.
Comes in:
Square #3912

The Square Island Grillstone, is favored for its ability to fit on most grills
and barbecues. Quarried out of volcanic rock and shipped straight to
your door, the Square Island Grillstone is ready to make you a master
chef.
WHAT IT CAN COOK
50 prawns, or 10 chicken breasts, or 100 asparagus
SPECIFICATIONS
One 12″ x 12″ x 3/4 " Square Island Grillstone
Round #3913
for charcoal & keg style grills…

Grills come in all shapes and sizes, and so do our Island Grillstones! The Round
Grillstone is perfect for those round charcoal and keg style grills where a square just won't
fit. The Round Grillstone is also great for cooking pizza and other round-shaped foods and
treats!
WHAT IT CAN COOK
One 12" pizza, or 10 pancakes, or 5 sandwiches
SPECIFICATIONS
One 14" Round Island Grillstone™
Rectangle #3914
For the portable, table-top grill folks
Grill on the go. The Rectangular Island Grillstone is perfect for the camper or fisher. Pull
out your portable grill and cook your freshly caught fish right on the boat if you want!
WHAT IT CAN COOK
12 sausages, or 3 salmon, or 7 kabobs
SPECIFICATIONS
One 7" x 12" Island Grillstone™
---
Easy to Use
Using the Island Grillstone is simple. To get started, simply coat your Grillstone in olive oil and let it warm up to cooking temperature on your grill. Let it cool, turn it over, and repeat for the opposite side. You're then ready to start cooking!
No More Flare Ups
We all hate those nasty flare-ups caused by dripping fats and oozing meat juices. Older grills even often have hot spots that can burn food to a crisp. Island Grillstone saves you from all that mess. Serving as a diffuser of the direct heat, the Grillstone ensures your food is evenly cooked.
More Flavor
One of the challenges with grilling is that all the flavorful juices end up falling through the grates. This is no good. The Island Grillstone holds all the rich flavor on the stone, allowing the food to absorb its own flavors and those around it.
No Fallen Soldiers
Ever gone for a flip and ended up sliding your asparagus/patty/other item down through the grates into the heated abyss? No longer! The Island Grillstone ensures your food stays on the cooking surface, right where it belongs.
Dickinson Marine Products
Click image for more information
Click image for more information
Click image for more information
Click image for more information
Dickinson Marine 2015 Propane Appliance Catalog
Note: Dickinson products have ABYC approval but they are not CSA, meaning they are only approved for marine applications, not for indoor use in cottages, houses, rv's, etc.
---
We can ship ALL ACROSS CANADA: Vancouver Island, Nanaimo, Victoria, Campbell River, Sooke, Parksville, Coombs, Lower Mainland, Greater Vancouver (Burnaby, Coquitlam, Port Coquitlam, Port Moody, Lion's Bay, Langley, Ladner, Tsawwassen, Surrey, New Westminster, Delta, North Vancouver, West Vancouver),
Squamish, Chilliwack, Abbotsford, Muskoka, Garden Bay, Sunshine Coast, Pemberton, Whistler, Kelowna… Alberta, Manitoba, Saskatchewan, Quebec, Ontario, Nova Scotia, Newfoundland, Yukon, Northwest Territories…
We also have distribution warehouses in: Vancouver (BC), Calgary (AB),
Edmonton (AB), Saskatoon (SK), Regina (SK), Winnipeg (MB), Mississauga (ON), Montreal (QC)