Unique UGP-6 6 cu/ft Propane Fridge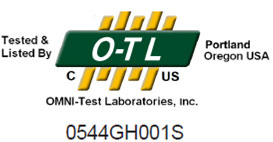 Certified for use in all provinces and states in North America.
*In Canada according to the 2010 Canada B149 Installation Code, if a propane fridge is being used in a dwelling it must be of the direct vent type. The direct vent propane fridge must be located/ installed on an outside wall (max. 18"/46cm distance). In all other applications, you can legally use propane fridges with either a CO alarming device with safety shut-off or direct vent system, based on your requirements. Please use a licensed gas fitter to install.
– Black: DV – #3380, CM – #3378
– White: DV – #3379, CM – #3377
Features:
Battery Operated Interior Light

Battery operated ignition

Dual power allows for 'brown' applications/frequent power disruptions

One large crisper drawer

Adjustable glass shelves

Doors Are Reversible

Thermostat

Front Mounted Controls
Operation: Propane/110V
Dimensions CO Monitor Model: (HxWxD)
Unboxed: 58 1/2″ x 23 1/2″ x 24 3/4″
Direct Vent Model (DV) Dimensions: (HxWxD)
Unboxed: 58 1/2″ x 23 1/2″ x 29″
Specifications
Modern interior with glass shelves and a clear crisper

Min. Clearances for Installation (from front): Left: 2" Top: 6" Right: 2" Back: 1"

Gas Consumption: Approx. 1.1 lbs. LPG in 24 hr. period

BTU: 1600 max., 700 min.

AC Power: 110V, 2.5 AMP, 300 Watts

Total: 6.4 cu/ft. / 181 Litres

4.9 cu/ft. / 139 Litres

1.5 cu/ft. / 42 Litres
Unique 6 Replacement Parts 2018