Unique UGP-3 3 cu/ft 3-Way Off-Grid Fridge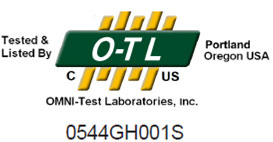 Certified for use in all provinces and states in North America.
*In Canada according to the 2010 Canada B149 Installation Code, if a propane fridge is being used in a dwelling it shall be of the direct vent type. The direct vent propane fridge must be located/ installed on an outside wall (max. 18"/46cm distance from outside wall). In all other applications in Canada, you can legally use propane fridges with either a CO alarming device with safety shut-off or direct vent system, based on your requirements. Please use a licensed gas fitter to install. *
– White – #3164
– Black – #3376
– NOT FOR USE IN A DWELLING – porches, and sheds are ok.
– This refrigerator is intended for use both indoors in adequately ventilated structures, and outdoor use.
Features:
Internal freezer compartment
Side handles for easy carrying
Doors Are Reversible
Piezo igniter
Thermostat
Flame Indicator
Front Mounted Controls
12V Adaptor sold separately
Specifications:
Dimensions (H x W x D): 31" x 20.25" x 23.75"
Runs times: Runs up to 30 days on a 20lb propane tank
Gas Consumption: Approx. 0.7 lbs. LPG in 24 hr. period
BTU: 850 max., 525 min.
AC Power: 110V, 1.45 AMP, 175 Watts
DC Power: 12V, 13.3 AMP, 150 Watts
Total: 3.4 cu/ft. / 96 Litres
Total: 3.4 cu/ft. / 96 Litres
Freezer: 0.4 cu/ft. / 11 Litres
Weight: 86 lbs/39 kg
CSA certified under the portable gas-fired camping refrigerator ANSI standard