Bosch Therm 520HN Tankless Hot Water Heater – No longer available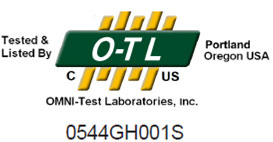 Certified for use in all provinces and states in North America.
NOTE: Due to a change in CSA Regulations regarding minimum thermal efficiency, Bosch On-Demand Water Heaters are no longer available.
**POWER VENTING IS NO LONGER AVAILABLE**
The Therm 520 HN incorporates an evolutionary hydro-power ignition system which allows this tankless water heater to work without a standing pilot, grid connection or battery! A small turbine inside the water heater uses the energy from the flowing water to ignite the burner. The modulating gas valve then maintains a constant temperature at varying flow rates. This innovative technology, patented by Bosch, makes this an ideal product for installations without access to electricity or regions prone to inclement weather and power outages.
Features/Specifications:
Patented Hydro-power ignition requires no electricity
80% thermal efficiency
117,000 BTU maximum input
5.3 gallons per minute capacity at 35F degree rise
Endless hot water for up to 2 applications at a time
Minimum activation flow rate of 0.5 gallons per minute
High to low temperature control
Vents with galvanized B vent – natural draft
Built for durability and serviceability with 15-year warranty and 20+ year life expectancy
Available in NG and LP models

15 year limited warranty on heat exchanger.
2 year warranty on all other parts.We service and provide replacement parts.
| Therm 520 HN | Specifications |
| --- | --- |
| Condensing/Non-Condensing | Non-Condensing |
| Application | Residential |
| Max Input (BTU) | 117,000 |
| Min Input (BTU) | 30,735 |
| Capacity at 35°F Rise (gpm) | 5.2 |
| Capacity at 55°F Rise (gpm) | 3.4 |
| Intelligent Cascading | No |
| Min Flow Rate | 0.6 gpm |
| Temp Range (°F) | n/a |
| Temp Stability (°F) | n/a |
| Default Temp (°F) | n/a |
| Energy Factor | 0.78 |
| Thermal Efficiency | 80% |
| Installation Options | Indoor |
| Dimensions (w x h x d) | 18½" x 36¾" x 10½" |
| Weight (lbs.) | 35 |
| Inlet Connection | ½" NPT |
| Outlet Connection | ½" NPT |
| Gas Connection | ¾" NPT |
| Max Water Pressure | 150 psi |
| Min Water Pressure | 40 psi |
| Min LP Presure | 11″ WC |
| Condensing Heat Exchanger | n/a |
| Venting Options | Galvanized B-Vent |
| Vent Maximun Run | n/a |
| Energy Star Rated | No |
Bosch Therm Tankless Water Heaters Brochure
Bosch Therm 520HN Replacement Parts 
We do not sell the venting required for these units but they are available at:

7959 Enterprise St, Burnaby, BC V5A 1V5
(604) 420-4323